Sarnia Bay Marina (sister to BYC)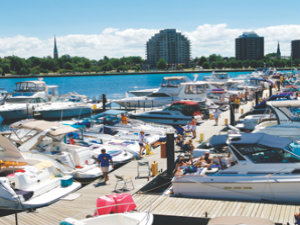 With over 30 beautifully landscaped acres and spectacular views of the Blue Water Bridges, Sarnia Bay Marina offers boaters a full service "lifestyle" marina that includes over 350 boat slips for both seasonal members and tourist (transient) boaters. The up-to-date facility and staff offer an endless array of amenities and services to all guests.
"Welcome Aboard" is a way of life at Sarnia Bay Marina! The Sarnia Bay crew consistently offers Canadian hospitality at its highest level with first-rate, friendly service. Fun, themed events are planned for most weekends, so make reservations early and plan your next vacation with us!
Sarnia Bay Marina is quietly becoming the most exciting boating destination on the Great Lakes!
97 Seaway Rd., Sarnia
1-877-797-2233
For more information Click here